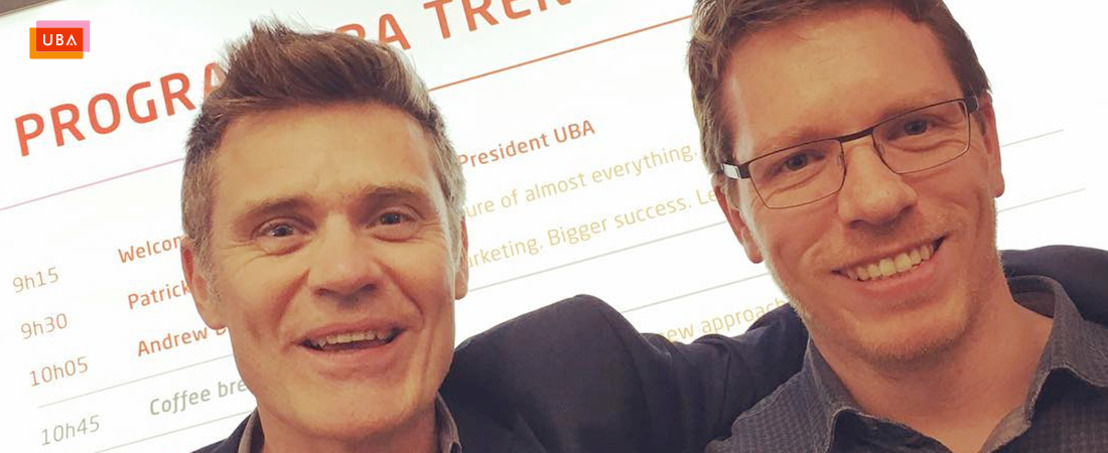 Tried and tested: Andrew Davis' 3 content marketing trends at the UBA Trends Day
Friday, March 17, 2017 — Even though Andrew Davis was scheduled to go on second at the UBA Trends Day, he was one of the main reasons why we attended the event. And he did not disappoint. Outlining the current situation at full gallop, he goes on to dissect three trends certain to stand you in good stead. But is he barking up the wrong tree?
We live in a world dominated by content overload. Hardly surprising then that Andrew Davis is arguing in favour of less content, but content that packs a more powerful punch.
Pieter Bewaerts (Head Office): "Nowadays the smartest brands focus on quality rather than quantity. The logical implication being that they also start treating their content like a product: 'They build it, they brand it & they market it like a product'".


The 3 trends to leverage this year in order to successfully deploy content, according to Andrew Davis:

1. Make an appointment with your audience
People are creatures of habit. There is no need to publish content every day. The important thing is to be consistent and to stick to your content pledge: in terms of substance and in terms of timing. Probe your target group to find out which times in their lives are best suited for you to claim and make sure you consistently deliver on your content pledge when you do.
Pieter Berwaerts (Head Office): "Content marketing has been causing quite a stir on the Belgian market for some time now. Yet a lot of advertisers are still struggling to put across their 'appointment', their content pledge on the market in a way that is loud and clear. This sees them miss out on a lot of opportunities to build an audience of their own to address. Fish Tales (fish-tales.com/en/) is an excellent case in point of how content can be used to imbue an awkward message – asking people to pay extra for ethically sourced fish – with a credible and emotional charge."

2. Attach talent that your audience trusts
The only way to build genuine and long-term trust is to be credible in the way you tell your story. And this credibility may come from unexpected quarters. Sephora worked with Lauren Luke: a young lady who set up her own make-up channel on YouTube, aimed at girls aged 16 to 21. In just 6 months' time, she managed to attract 500,000 subscribers, which in turn led her to set up her own web shop and product line (By Lauren Luke). Consider your own line of business and ask yourself: who is your Lauren Luke?
Pieter Berwaerts (Head Office): "The quest for talent is a process which refuses to be locked down in backtiming. It is trial and error all the way, and these myriad trials are underrepresented in the successful cases."

3. Exploit content holes
Seek out a niche or a market in which your expertise puts you at the forefront. Trish Witkowski (Foldfactory) noticed that designers enjoyed being creative with Direct Mailshots, but also that customers invariably went for the same folded letters because they are swiftly processed. She set out in search of creative DM designs that are easy to open as well as easy to send. In doing so, she filled the gap between designers and the demand from businesses for swift-paced processing of DM mailshots. Her ROI? 500,000 dollars a year.
Pieter Berwaerts (Head Office): "Successful areas of conversation often emerge at intersections of the things your audience is interested in. Which is seen in the success of these combinations: quick and healthy recipes using sustainable ingredients (Fish Tales) and creative direct marketing using affordable print solutions (Foldfactory)."
But the quote that best encapsulates the whole idea remains: "Content brands build relationships. Relationships build trust. Trust drives revenue."
"Content brands build relationships. Relationships build trust. Trust drives revenue." @drewdavishere #ubatd pic.twitter.com/JimbjKL1Yv

— Jef De Busser (@jefdebusser) March 16, 2017
If you want to find out how a content-driven approach could help you achieve your business goals, get in touch with us. We are happy to look at ways to help you move forward.