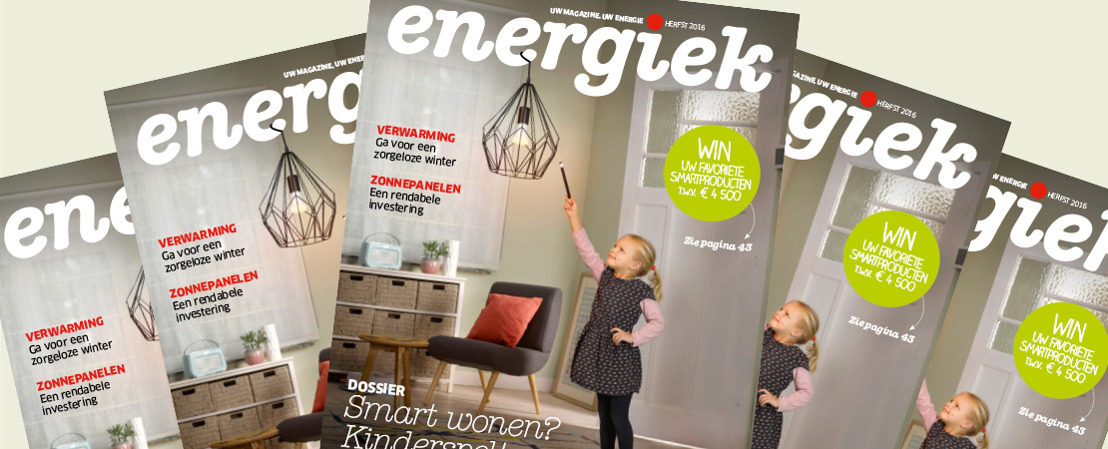 Make-over for ENGIE Electrabel... and its Energiek magazine
Thursday, January 26, 2017 — Future-focused with an emphasis on sustainable, smart and efficient energy. That is how energy supplier ENGIE Electrabel - the former Electrabel - has been wishing to position itself in the market since 4 April 2016.

And a name change naturally means a change in house style. The perfect opportunity for a make-over of ENGIE Electrabel's B2C magazine Energiek! Our designer Katrien spent hours assimilating the adapted corporate identity guidelines and conjured up a real gem, using the new fonts and colours. Completely in line with the brand-new ENGIE style, of course!
In early November, 4.5 million homes in Flanders and Wallonia received the first restyled issue full of tips to turn their homes into a "smart home". We asked a family to test all kinds of smart products for a month, put together a fun shopping page with products for making your home smarter and organised a contest in which customers could win €4,500 worth of smart products. Or how the theme of "smart living" represents everything that the new forward-looking ENGIE stands for.
Curious about the result?