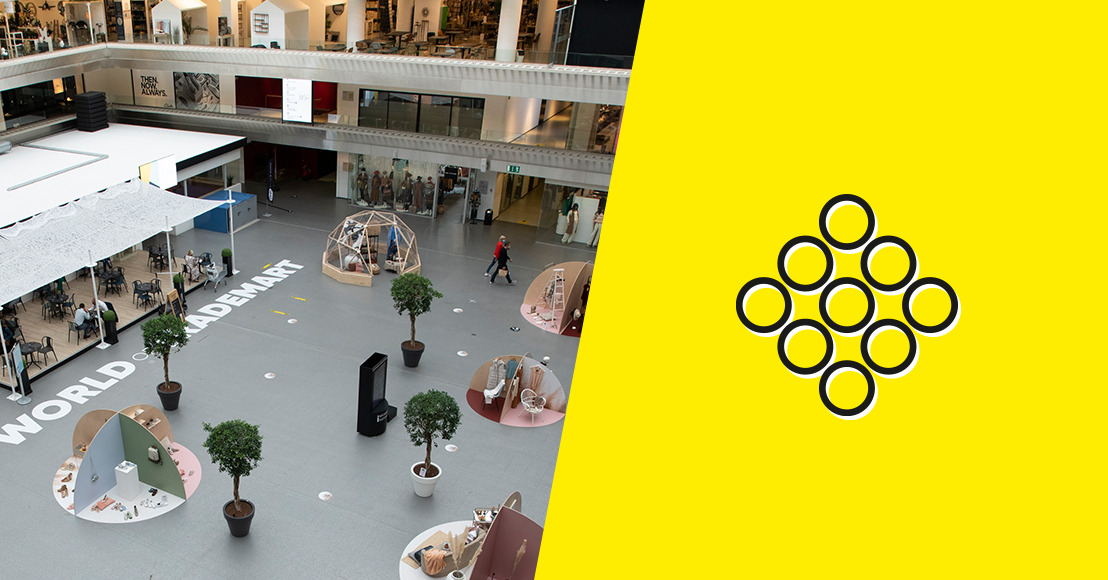 How about giving retailers a taste of the autumn trends? HeadOffice helps Trademart do just that!
Wednesday, October 27, 2021 — HeadOffice gives 'World of Trademart' a new (trendy) makeover for the autumn. The 6 islands in the imposing Atrium (the central heart of Trademart) enjoyed a makeover, giving retailers a glimpse of what they can discover in the rest of the building. HeadOffice has also featured the new autumn style in event videos, on social media and in visual communication.
Trademart? A place that breathes... trends! It is Europe's largest wholesale centre for professionals - at the foot of the Atomium - and a place where retailers are inspired to surprise their customers with novelties season after season. Retailers head to Trademart to order their collections or take their favourite items with them straight away thanks to the Cash & Carry system. From exhibitors specialised in fashion to accessories, shoes, interior design and much more!
'World of Trademart' gives you access to any trend
In the spring of 2021, HeadOffice launched 'World of Trademart' and there is now a sequel. The 6 islands in the Atrium - one per sector and one overview island - were decorated in line with the latest autumn trends, providing an overview of what is hip and trendy in every sector.
HeadOffice introduces Trademart's visitors to the novelties of the season in an original and surprising way. It is a glimpse, a little taste of what else is to be discovered in the building. The Atrium is the heart of the building, and from there visitors can move on to the various departments.
Beige pampas grass as the common thread
After the launch of the concept at the beginning of this year, the islands were treated to an autumn makeover, giving them an entirely new look. The visual style and communication materials were also adapted. For the autumn, HeadOffice chose pampas grass as the common thread for all 'World of Trademart' communication.
HeadOffice creates video content that shows you the way
In that same spirit, HeadOffice also creates (event) videos in cooperation with Virginie Claes for the autumn. She always starts off with the Atrium and 'World of Trademart' to explore the different Trademart events and autumn trends. The result? A catchy visual story that puts the event and the exhibitors in the spotlight and will be shared via Trademart's various communication channels.
Dieter Eeckhout, Marketing Manager at Trademart: "World of Trademart is a great concept that showcases the seasonal trends to our visitors in an original way. Once again HeadOffice made sure that the concept for the autumn - from concept to execution - completely came to life."