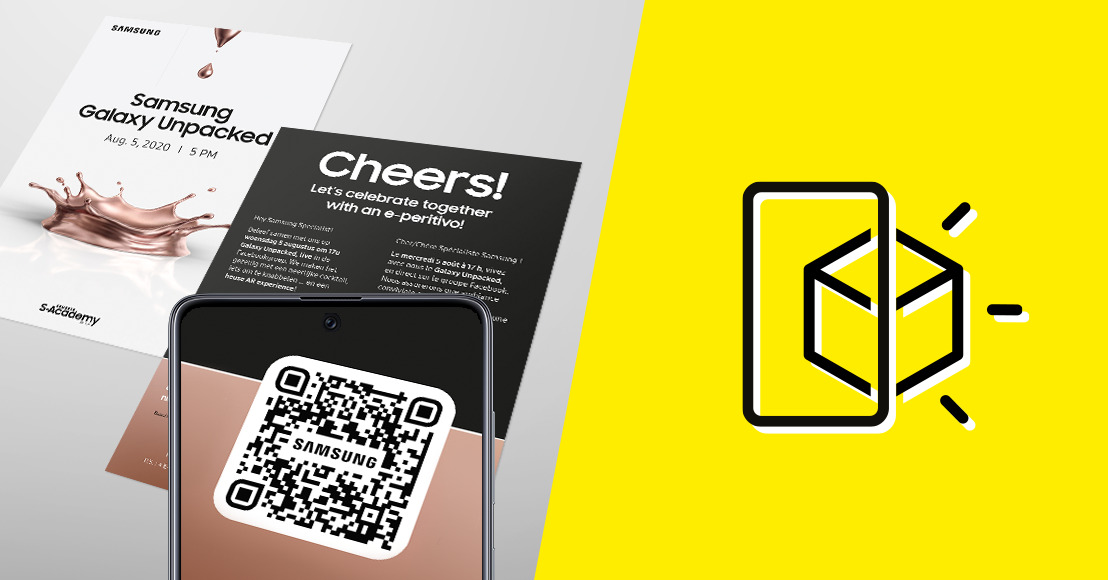 HeadOffice rolls out AR experience for Samsung Benelux
Monday, October 5, 2020 — What do you do when COVID-19 prevents you from going through with your planned launch event? You do it with… augmented reality! And that's exactly what Samsung did for the launch of the Galaxy Note20 with the help of HeadOffice. We immediately shifted up a gear to create a unique AR experience. What exactly did that entail? We'll tell you!
Samsung organises an event for the launch of each flagship where professionals can discover the new product for the first time. This is a much-anticipated event for many operators and retailers. But what if COVID-19 has crashed your planned live Unpacked event for the new Galaxy Note20? Well, then, you open the way for alternative options, which is what HeadOffice did when it assisted Samsung in rolling out the launch in Belgium and the Netherlands.
On the menu: cocktails and QR codes
For example, HeadOffice lifted Samsung's digital event to a higher level. How? Well, the guests were sent a box for the Unpacked Event. What was in this box? An invitation to follow the live stream of the event on YouTube, some ingredients to make a tasty cocktail, and a QR code that they could scan to get their hands on the new device 'for real' – using augmented reality.
The Galaxy Note20 in augmented reality
The sales force was able to discover the new Galaxy Note20 in augmented reality using the QR code. The new device suddenly seemed to be right in front of them. They were able to discover the Galaxy Note20 and all its features from every angle and in the smallest detail.
"What do you do when you can't go to a launch event and still want to discover the new device? Augmented reality provides an answer and it is the way to get the new device – in premiere – to the target group. Their curiosity had already been piqued and, thanks to this digital experience, they all had a front row seat," says Jeroen De Jong, Creative Director at HeadOffice. "They were able to discover the new Galaxy Note20 down to the smallest detail – right from the comfort of their own sofas," winked Jeroen.
"We are so satisfied with the results that HeadOffice was also asked to develop an AR experience for the launch of the Galaxy Z Fold2. This allows our customers to discover the device, both in-store and online via augmented reality," says Laurens Neyt, Senior Retail Operation Manager at Samsung Electronics Benelux.
Roll out over different channels
After the premiere, the QR code, with the underlying AR experience, was also shared via mail, social media, and in the Samsung Members app. HeadOffice developed the AR experience in collaboration with Playar Studio.