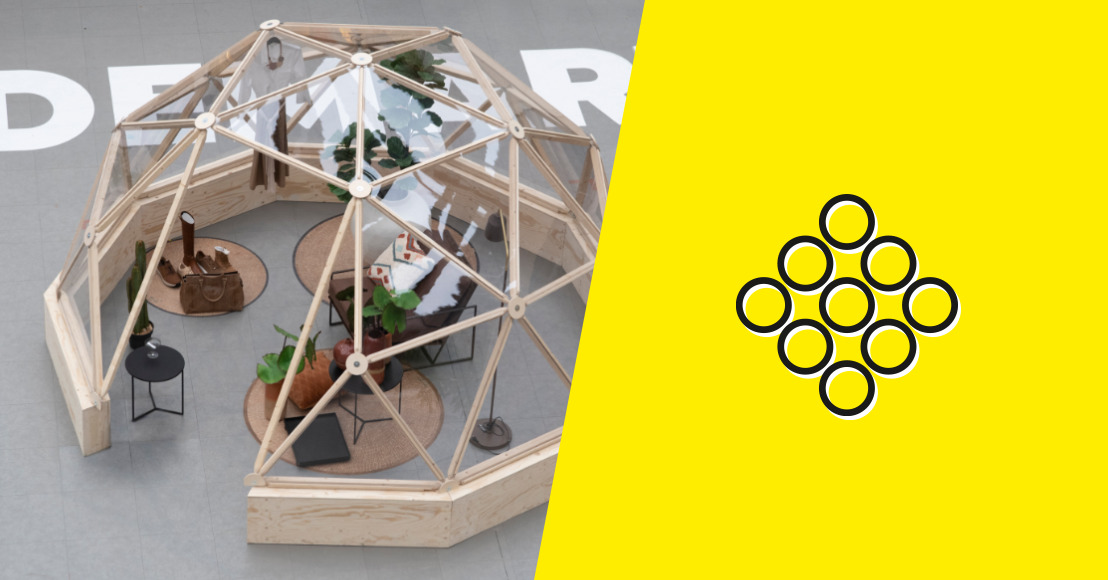 HeadOffice opens the world of trends for Trademart
Thursday, February 4, 2021 — An oasis of trends. Sounds good, doesn't it? Well, that is exactly what HeadOffice developed for Trademart Brussels. There are six different islands in the imposing entrance hall, allowing visitors to discover everything that the new spring season has in store for the lifestyle sector. Welcome to The World of Trademart!
In addition to their permanent collections, Trademart organises numerous events for retail professionals from the Benelux every year. To make these events more visual and activating, HeadOffice came up with an overarching creative concept where visitors can already catch a glimpse of what is to be discovered in the rest of the building. Everything came together and the doors of a wonderful world opened more and more...
Therefore, this inspirational place was called The World of Trademart. It is a world - built in the Atrium - where content and event experience go hand in hand. The Atrium is the beating heart and therefore also the ideal place to create visibility for the never-ending stream of inspiration, trends and innovations, which then culminate during one of the events.
The common theme found in the various islands? Nature! Magical nature has a connecting power and therefore HeadOffice designed six product islands according to this theme. In addition, botanical prints are also a key trend for 2021. In the middle of the Atrium is a glass sphere in which different sectors combine to show the crème de la crème for next spring. The must-have jumper for next season? That pair of shoes or a product from the kids collection that will generate some hype? You'll discover it here!
And the adventure continues... With the hashtag #TrademartCrush , retailers can share their favourites and inspire others. In addition, vlogger Virginie Claes will take viewers to The World of Trademart and other events to capture the atmosphere.
A (trendy) story that you don't want to miss!
Dieter Eeckhout - Head of Marketing at Trademart Brussels: "Trademart takes retailers - from the first step into the Atrium - on a wonderful adventure full of trends and novelties. Each island reflects a different universe and we are very excited about how HeadOffice, with The World of Trademart, is able to instantly draw the visitors into our story"