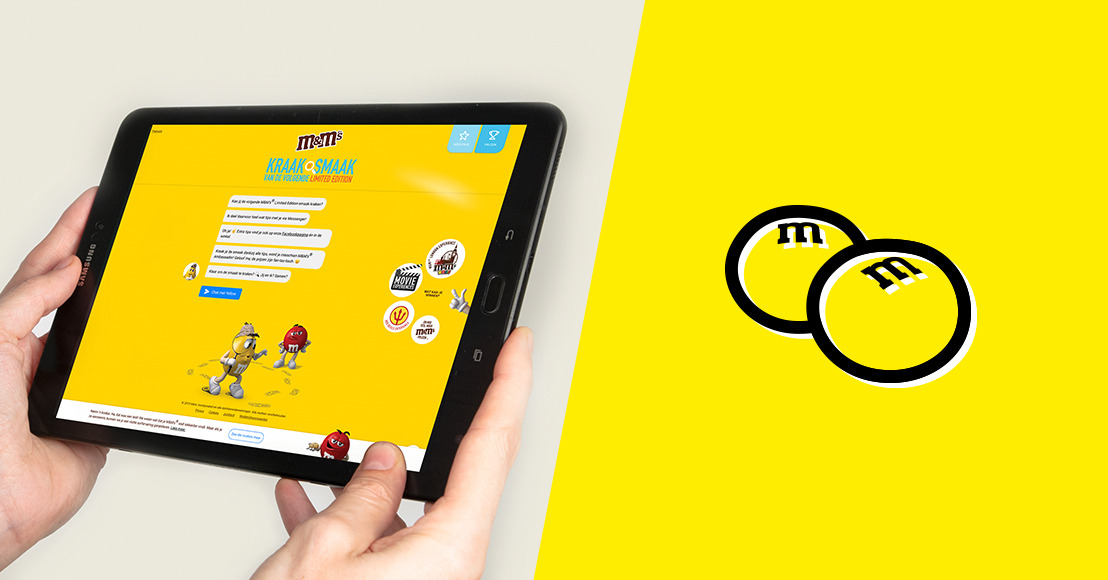 HeadOffice launches a chatbot for M&M's® teasing campaign
Thursday, May 16, 2019 — HeadOffice helps you to search for the new M&M's® taste
Fans of M&M's® can start salivating: soon there will be a – temporary – new limited edition available! To create the necessary buzz, HeadOffice devised the FIND THE TASTE campaign. This powerful 360° concept will be actively deployed through a clever interplay of online media channels such as Facebook and Instagram, and offline communication via POS materials and on-pack banners.
Yellow helps crack the case
HeadOffice has built a strong and very interactive competition mechanism: Talk with the Yellow M&M® and guess the new taste. Participants receive all sorts of tips from the sympathetic chatbot to find the new taste and earn their chance to become an M&M's® Ambassador!
"Our chatbot Yellow takes care of interaction via text and animated gifs, and thus appeals to a wide audience."
Evi Malcorps, client service director HeadOffice
3 winners will become Ambassadors!
Three lucky people who guess the new taste will have the opportunity to be M&M's® Ambassadors! They will enjoy a host of fun benefits and experiences such as a trip to M&M's® World in London, cinema tickets and summer experiences with lots of M&M's® gadgets on top. In short, so many reasons to join the search to guess the new taste M&M's® taste!
Campaign url: