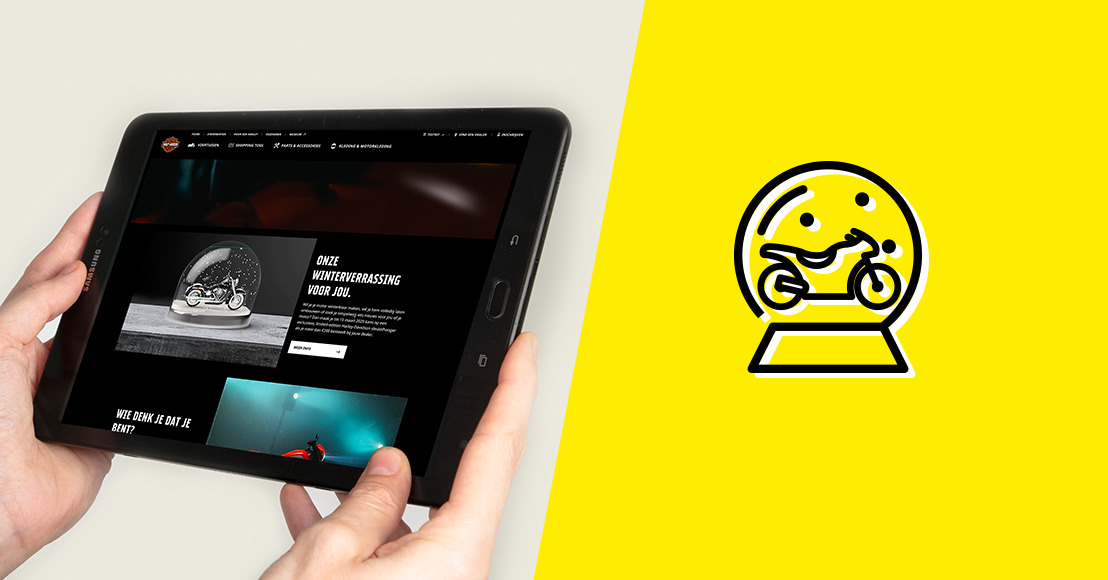 HeadOffice goes flat out for Harley-Davidson this winter
HeadOffice creates a new winter promotion for Harley-Davidson
Monday, February 10, 2020 — True Harley-Davidson riders want to treat the biking apple of their eye to the finest care in winter. And Harley-Davidson dealers are, of course, the best placed to do this. HeadOffice once again highlighted the annual winter promotion for this iconic brand with online and offline tools as powerful as the bikes themselves.
The most beautiful key visual on the globe
Every Harley-Davidson is a gem and its owner's favourite toy. And winter is the perfect time to give it the attention it deserves. Inspired by this, HeadOffice came up with an original concept with the headline, 'The most beautiful on the globe. And you want to keep it that way.' The subject was a striking key visual showing a Harley-Davidson glinting under a snow globe.
Flat out online and off
The winter promotion, which runs from November to March, aims to draw attention to the special winter maintenance, comfortable storage, attractive discounts on clothing and accessories, and the customisation that the dealers offer.
HeadOffice developed a complete communication package with POS materials including posters and digital assets for their social media, e-mailings and website. Finally, it also created an ad for the back cover of the Big Twin brand magazine for Belux and vouchers for the coveted HD keyring.
"We're proud of our solid partnership with an iconic brand such as Harley-Davidson," says Evi Malcorps, client service director HeadOffice.