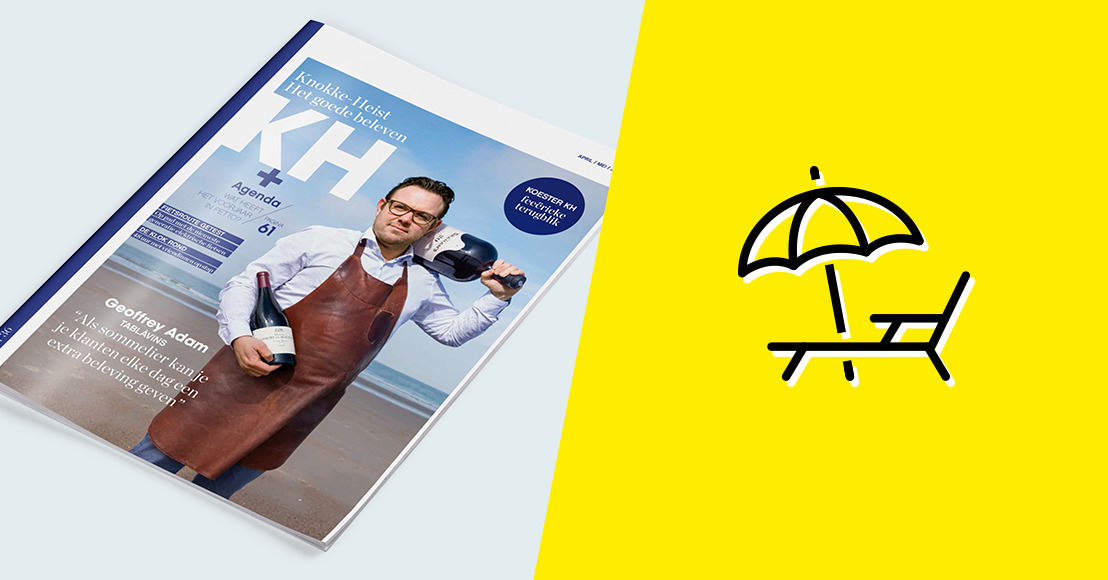 HeadOffice gives Knokke-Heist magazine KH a new experience
Wednesday, May 29, 2019 — HeadOffice refines the KH magazine concept for the coming 4 years.
With the latest public tender of Knokke-Heist for the town magazine KH, HeadOffice has once again risen above the rest. The ideal opportunity to enhance the magazine concept and to design a revised content model where advertisers also find what they are looking for.
Improved magazine concept
Whereas previously the magazine was more descriptive, the new design strives to focus more on experience. "KH has a subtitle: 'Knokke-Heist, Living the good life' and we want this to be even more of a reality. By taking the reader by the hand and showing them what's going on in Knokke-Heist and addressing the concerns of the Knokke-Heist residents." says Evi Malcorps, Client Service Director HeadOffice.
Native content
Alongside this, advertisers are also extremely important to the magazine. In reality, they pay for publication but the tendency is to step away from the classic 1/1 advertisements. The made-to-measure sponsored content files create a win-win situation: the readers are taken along in an experience and the advertisers have new opportunities to make their story accessible to their target audience.
Anthony Wittesaele, Councillor for Tourism in Knokke-Heist: "With this new way of communicating we are giving the best service, not just to our readers but also to the advertisers."
Cycling with a little help
A good native content file was in the latest edition: the discovery of the latest KH cycling route as well as a study of e-bikes in the same article. The success of such native content relies mainly on the perfect alignment between topic and audience. By staying close to current events, it is also more relevant and the chance is greater that a subject will be remembered. In this case, KH magazine and cycling form the perfect tandem.
Evi Malcorps, Client Service Director HeadOffice: "With the KH magazine we demonstrate that printed content can fulfil, more than ever, its own unique role with a convincing content strategy, a high-end look & feel and a tactile approach."
khmagazine.be