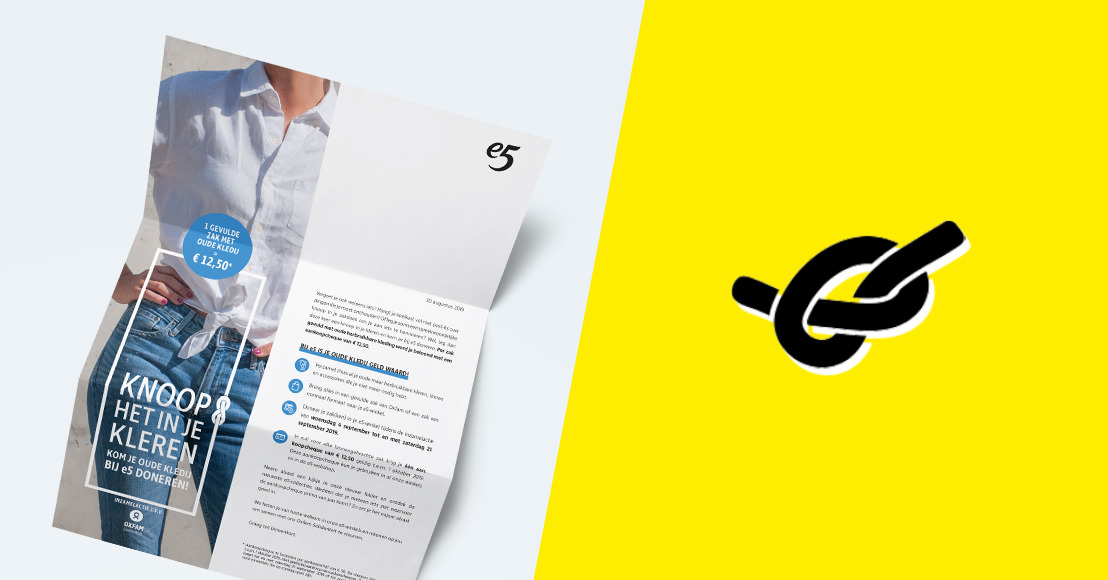 HeadOffice gives e5's promotion a new look
Monday, October 14, 2019 — Fashion retailer e5 and HeadOffice have been working closely together for over a year on folders, radio commercials, direct mail, etc. This summer, e5 asked HeadOffice to give their famous Oxfam promotion a new look.
Twice a year, e5 asks its customers to bring in old serviceable clothing to donate to Oxfam. In exchange for this, they get a discount voucher. The very first edition dates back to 2002, making e5 a true trendsetter in the field of circular initiatives. Today, even more retailers are committing to sustainability, so strong communication is essential. That's why e5 asked HeadOffice for a radical makeover of its Oxfam promotion.
Since September 2019, you've been able to recognise the Oxfam promotion by the new one-liner, 'Put a knot in your clothes' and the corresponding call, 'Come and donate your old clothes at e5'. As a campaign image we used a basic white shirt with a knot in it. We translated this approach into flyers, direct mail, and playful radio commercials.
During the previous editions, e5 collected about 425 tonnes of clothes. In September 2019, with the new promotion, customers brought in no less than 535 tonnes of clothes for Oxfam in two and a half weeks. Don't miss the 35th edition of this collection promotion!