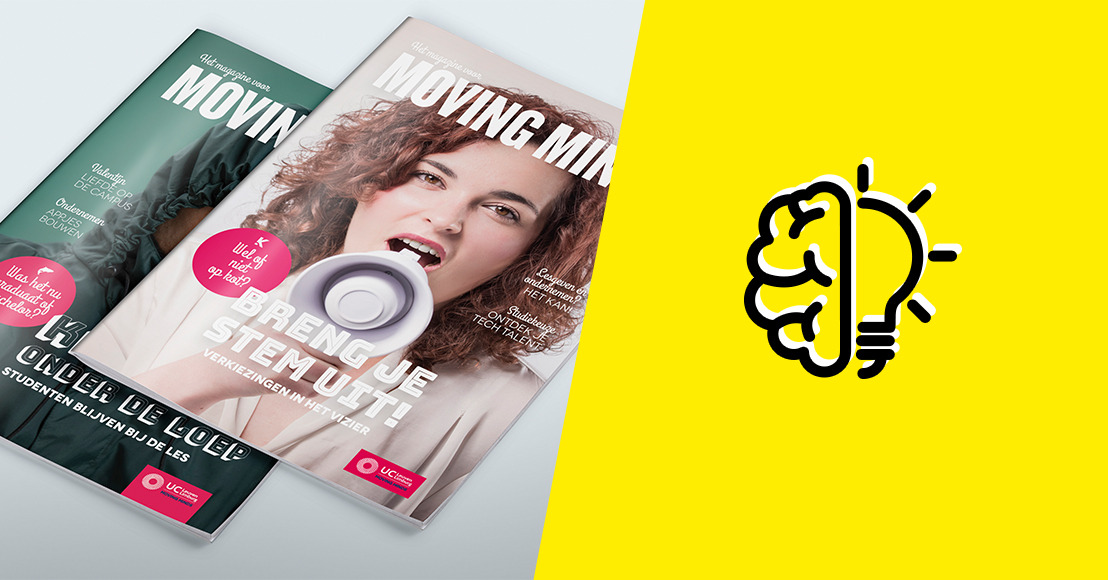 HeadOffice and UCLL define a new approach for the Moving Minds magazine
Thursday, June 13, 2019 — HeadOffice defines a clear vision and approach for UCLL's Moving Minds magazine, with more focus on storytelling, allowing online and print to reinforce each other.
Since February 2019 HeadOffice has produced the 16-page Moving Minds magazine for UC Leuven-Limburg (UCLL). What began with the rebranding of the magazine has now led to a new vision, positioning and multi-channel approach for the magazine.

Moving Minds rolls off the presses four times a year, ready for future students to enjoy. The magazine delivers bite-sized lifestyle articles such as 'Will you meet the love of your life on campus?', but you can just as easily find more serious topics such as 'Choosing between university or non-university studies.' UCLL loves the new-look Moving Minds magazine and wanted to create more impact.
"HeadOffice immersed themselves in the sector and operations of UCLL so that they could aim directly for our goals. During a workshop with our communication team we defined the priorities of our content strategy together. The main objective is to devote more space to the fascinating stories of students and teachers. In the meantime the new-style first editions appeared, and the restyling has been a real hit with our students and potential students." says Jan Withofs (Head of Communication, UCLL). "We appreciate that HeadOffice thinks with us, as a partner, about how online and offline can be reinforced even more within our multi-channel strategy."
In order to give this broad communication strategy every chance of success, the combination of theory and practice is essential. HeadOffice foresees an online variation of the Moving Minds magazine and the 2018 Annual Report has received a lively design.