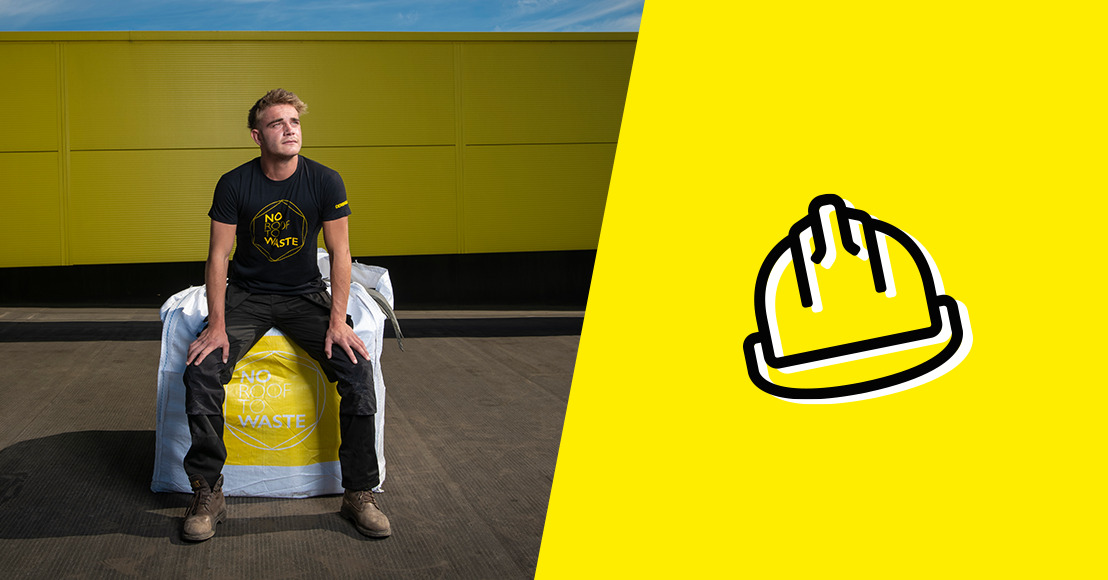 HeadOffice and Derbigum raise the roof
Friday, January 15, 2021 — Approaching roofers? Not an easy job, but we did it! For Derbigum, HeadOffice continued their unique recycling programme, 'No Roof to Waste', and came up with an online concept to get roofers excited about this. The idea? Create a private Facebook group to better inform the sector about the advantages of Derbigum through a variety of challenges. Curious? Read more here!
HeadOffice came up with a way to get in touch with roofers and introduce them to the 'No Roof to Waste' principle from Derbigum, the specialist par excellence in flat roofs. A private Facebook group 'Derbigum: No Roof to Waste' puts the company into contact with the construction workers and companies on the sites themselves.
Roofers under one roof do like a challenge
This is how the concept #DAKKANIK / #TOITDANSLENEZ was born. The roofers were dared to give the best of themselves in a series of tricky challenges – six in total – in the Facebook group. Enthusiastic roofers were brought to the Facebook group through POSM support, among other things. Robin Roofer, the group's community manager, was eager to get the page nailed down and launch the challenges.
The first challenge? An instant success! For example, the roofers were asked to share a photo of the sky and of the unique view they have from a roof within the Facebook community. Of course, they got a cool prize on the house for their efforts. For example, HeadOffice designed a full series of T-shirts with an original saying printed on them. T-shirts with 'Dak fier ben om dakdekker te zijn'/'Entre toit et moi c'est l'amour fou' or 'Dakmanschap da's een dak apart'/'Toit plat c'est tout moi' were a big hit among the roofers! The roofers have a chance to win a T-shirt with each challenge.
In addition to the challenges, the Facebook group is also updated with content about 'No Roof to Waste' to create a nice balance on the page.
Curious about the results of the Facebook group? Here's a few figures:
The Facebook group started in September 2020. In November of that year, the page already had more than 450 committed members.
84% of the members are actively involved in the group.
Responses to the challenges and mutual interactions are through the roof: 130 posts, 140 comments, and over 1500 comments! And this is just the beginning…
We will continue this strategy in 2021 with even more tricky challenges, so stay tuned!