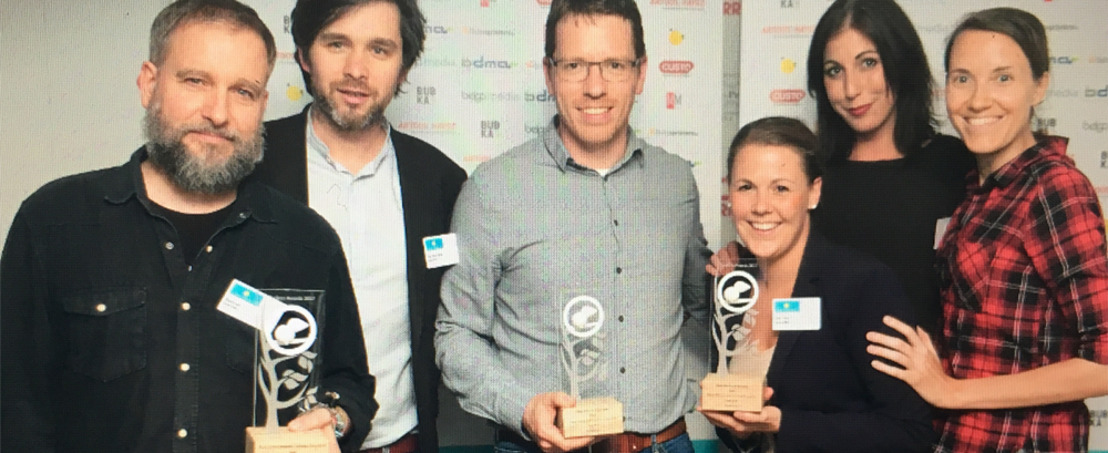 Head Office wins double gold at the Cuckoo Awards
Friday, May 12, 2017 — During the ceremony of the Cuckoo Awards, the elections of the best Belgian content cases, Head Office took the stage for no less than three awards with A.S.Adventure. The leading content marketing agency had the honour of bringing home two golden awards in the category of 'most effective direct sales' and 'best content program/strategy (long term)' , and a silver award in the category 'most effective direct sales' .
Head Office, Benelux' leading content agency, won two golden awards with the Explore More-program of A.S.Adventure. The content driven loyalty program of Belgium's biggest outdoor retailer took its first steps in 2008 with A.S.Magazine. Nine years later, it has evolved into a powerful, multichannel loyalty program, nurtured and fed with content. Valuable content, delivered to the consumer at the right time, through the right channel. This customer centric approach is appreciated and rewarded! For every euro that A.S.Adventure invests in the Explore More program, they receive 25,7 euro in return.
Gilles Van Lembergen (CEO Head Office): "These golden awards for the content driven loyalty program confirm once again that investing in content marketing pays off. At the same time, it has proven results on the sales volumes and by consequence on the operating profits of our client, A.S.Adventure. Even more, content keeps on gaining importance in a competitive (online) retail environment. Consumers want good, relevant content, both in print and online. And they want it both in-depth with expertise, and in snackable portions. It is in that ever increasing demand, that we meet the consumers every day with the Explore More program."
At A.S.Adventure, they appreciate the long-term approach of content. Didier Neyt (CMO A.S.Adventure): "Thanks to the Explore More program, we can build an authentic and valuable relationship with our customers. It enables us to both inspire them with authentic stories, and to maximize our role as market leader in outdoor expertise. The content driven approach, with which we pioneered, has developed into a trustworthy breeding ground for loyal customers."
Besides the general Explore More program, our authentic birthday approach was celebrated as well. Instead of sending coupons and vouchers, we chose to send the people a positive and well-meant message, supplemented with some practical tips to turn their birthday into a truly epic day. And that decision made this edition of the Cuckoo Awards even more memorable for Head Office and A.S.Adventure.
About Head Office
Communication agency with a big - BIG - focus on strategic content marketing & advertising. Creating great stuff along the way to meeting your sales targets makes us happy and proud.