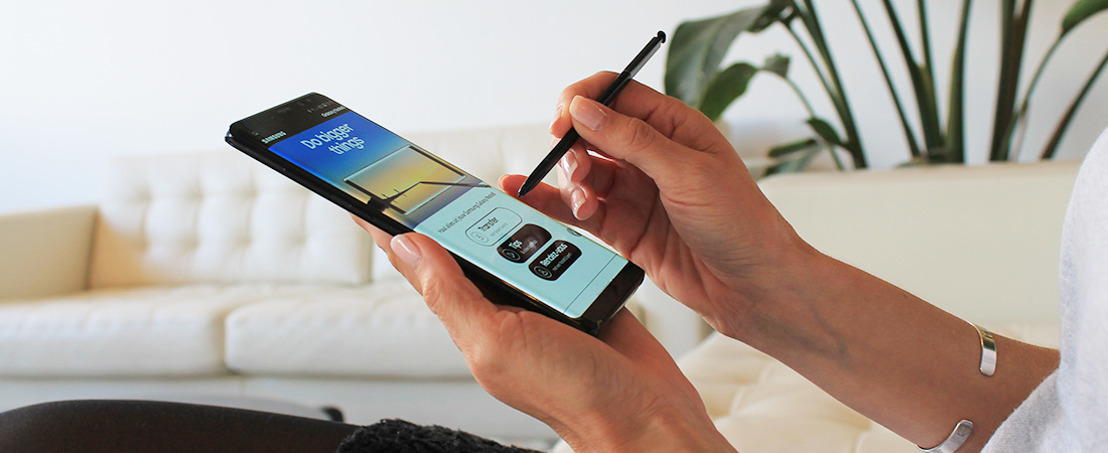 Head Office does Bigger Things with Samsung
Thursday, September 21, 2017 — Head Office built a consumer website to help Belgian and Dutch buyers of the brand new Samsung Galaxy Note8 to switch over to and discover their new smartphone.
After extensive collaboration on the S-Academy B2B training platform, Samsung asked Head Office to develop a B2C extension for the launch of the Galaxy Note8. 'Our latest addition to the family is a high-end device that needs a few words of guidance,' explains Laurens Neyt, Retail Operation Manager at Samsung Electronics Belgium. 'With the dobiggerthings.be platform, in three easy steps we provide our Galaxy Note8 customers with the with the extra tips and tricks they need to get started as quickly as possible, and get the most out of their new purchase.' For this new project, we also launched dobiggerthings.nl in collaboration the Netherlands.
Head Office looked after the design, development and content of the website. For POS, the Leuven designers developed a packaging sleeve which pointed the right way to the platform.
Evi Malcorps Operational Director, www.headoffice.be
Jeroen De Jong Creative Content Director, www.headoffice.be
Pieter Berwaerts Head of Strategy, www.headoffice.be