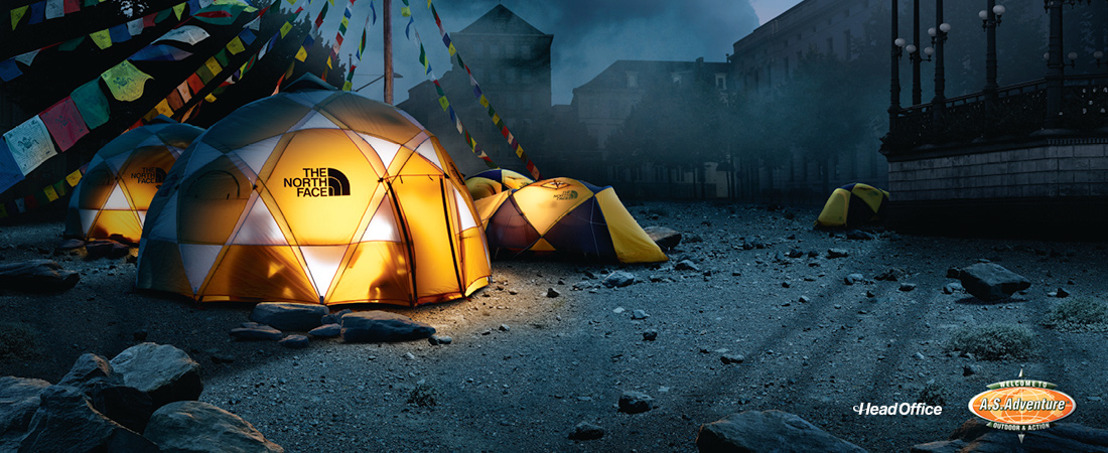 Head Office organises the most successful opening ever of an A.S.Adventure store
Friday, January 27, 2017 — 30th of January 2017 - In October, A.S.Adventure, the Belgian retail chain specialising in outdoor, leisure and fashion, moved its Ghent branch from Veldstraat to a prime location even closer to the city centre. Head Office was tasked with coming up with a creative concept to make sure this event would not go unnoticed.
An adventurous store that goes walkabout in the city to pitch its base elsewhere... At Head Office, we call this a proper expedition. Before the new store could open, the old A.S.Adventure store had to close for two days to prepare for the Veldstraat to Zonnestraat crossing. Head Office came up with an original concept to highlight this transition, pitching a real A.S.Adventure tent camp on Ghent's Kouter Square: a tongue-in-cheek reference to mountain expeditions in the Himalayas. Curious passersby were able to participate in a competition, for a chance to win a real adventurous trek through Nepal.
From Friday 21 October onwards, customers were welcomed at the new, impressive historic building on Zonnestraat. The building was designed in 1922 by architect Maurice Fétu, and was recently restored to its former glory, having taken quite a beating after a long string of previous uses. The opening was an unprecedented success in the history of A.S.Adventure, also in part thanks to Head Office's playful tent campaign which was announced through the website, posters and social media. An interior photographer also took an impressive series of before and after photographs of the restored building, which you can find here.
In any event, Didier Neyt, Marketing Director at A.S.Adventure, seems very satisfied with the outcome: "The move to Zonnestraat in Ghent presented us with a tremendous challenge. A.S.Adventure's new location had to and would be a success at all costs. Head Office and A.S.Adventure came up with a bold and striking concept, and succeeded into turning this into the most successful opening ever. The concept really came to life thanks to the integration of several communication channels, and also yielded some amazing results. We successfully made it to the summit".
Head Office has firmly planted its flag for this endeavour.
Read here some nice articles about the opening:
An interior photographer also took an impressive series of before and after photographs of the restored building:
Hanne De Wit Press & PR, www.headoffice.be