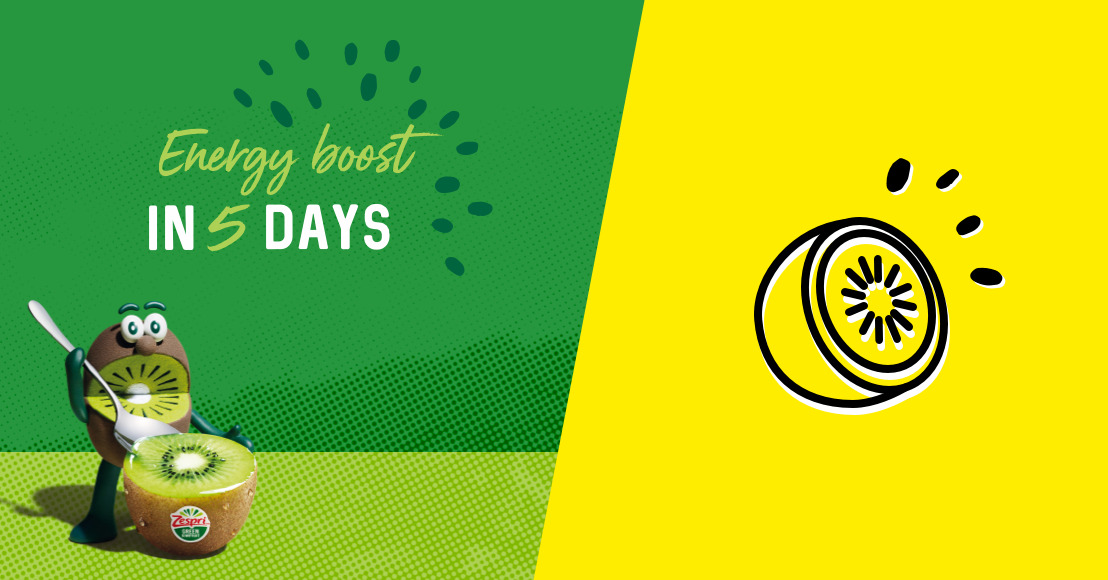 Great campaign, great results! HeadOffice goes full steam ahead for Zespri
Wednesday, May 26, 2021 — A strong digital campaign that motivates people to exercise more, eat healthier and focus more on mental well-being? With the 'five-day Energy Boost' challenge, HeadOffice devised an energetic concept for Zespri!
Find out more about the 'five-day Energy Boost'. A challenge that focuses on vitality and provides five days of support to participants in three main areas: sport and exercise, healthy nutrition, and mental health. The 5 campaign tasks are simple and easy to do for the specific target groups that Zespri had in mind: young families with children, people over 30 and people over 55.
A landing page was set up featuring numerous articles, videos and printables as further support. Influencers were involved to promote the campaign and generate traffic to this landing page. SeniorenNet also joined in the Energy Boost campaign and included Zespri's main message on vitality and energy on its website and in its newsletter.
The results of this campaign were a great success. Several key figures:
An engagement rate of 8.77% on Facebook.
The average time-on-page for the landing page was 02:40 min, which is well above the benchmark of one minute.
15,999 people received the two campaign emails. We can also report an average open rate of 38.98%. This figure is considerably higher than the average industry benchmark of 10.20%. The click rate was 7.5% - the ultimate proof that the content is very popular.
In the SeniorenNet newsletter, which contained nine blocks of content, the Zespri message received 17.5% of all the clicks with a CTR of 5.3%.
"This digital campaign has given people the energy to start their spring with a spring in their step. HeadOffice found the right match between us, as a brand, and the needs of consumers in this season. The result is a fantastic digital campaign that has had more than the hoped-for impact," says Kirsten Pint, Marketing Manager Benelux at Zespri Kiwifruit.