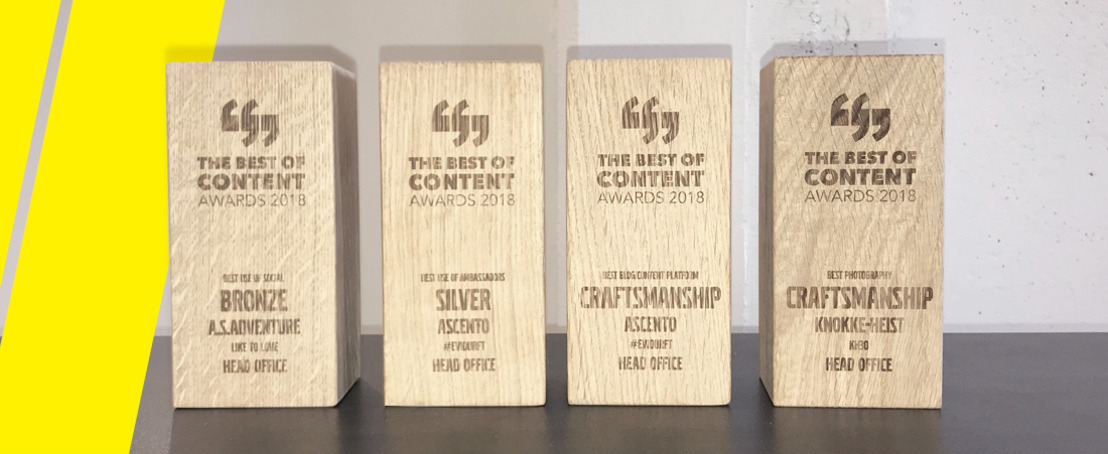 Four in a row for Head Office at the Best of Content Awards
Friday, April 27, 2018 — Head Office was able to climb to the stage four times during the Best of Content Awards
Last night, the first Best of Content Awards took place at La Tricoterie in Brussels. In addition to Content Strategy Awards, given out by a jury of advertisers, Craftsmanship Awards were given out by a team of independent experts. Three Head Office cases were nominated… and a total of four trophies found their way back to Herent.
In the "#EviDurft" campaign, former sailing champion Evi van Acker encourages people to change career under the guidance of Ascento's talent experts. The jury also found Evi very convincing because Head Office won the Content Strategy Award for Best Use of Ambassadors and the Craftsmanship Award for Best Blog Content Platform. "Like to Love", the project through which outdoor specialist A.S.Adventure managed to give their social media an unexpected boost over a period of a year, got the award for Best Use of Social from the advertisers' jury. And "KH30", the 30th edition of the Knokke-Heist city magazine was congratulated by the jury in the form of a Craftsmanship Award for Best Photography.
Awards for online, for social media and for print… we can say with pride that Head Office's global content marketing approach works on all levels.
Evi Malcorps Operational Director, www.headoffice.be
Jeroen De Jong Creative Content Director, www.headoffice.be
Pieter Berwaerts Head of Strategy, www.headoffice.be