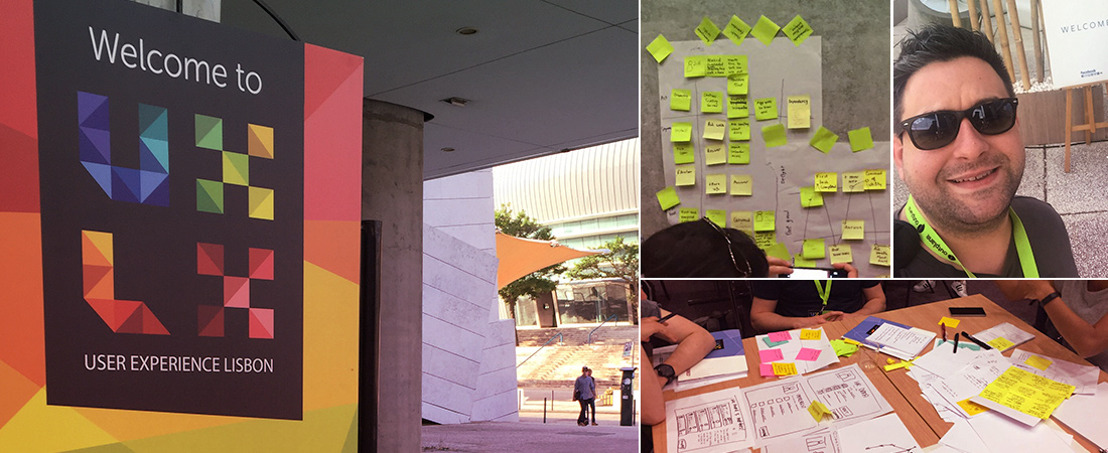 "Don't think about what you want to say, think about what your user wants to hear"
Wednesday, June 7, 2017 — Don't think about what you want to say, think about what your user wants to hear. Take a step back and reflect on what you want to share with your audience, where you want to share it and more importantly, how you'll go about it. This user-centric approach is at the core of UX (user experience) design.
Easier said than done right? That's why at UXLx, experts like Richard Banfield, Anna Dahlström, Jim Kalbach, Jeff Patton, Jody Medich and others shared their own strategies, patterns or visions on how to start thinking about the user first. UXLx is a global gathering of UX designers, product designers, strategists, … in Lisbon to share ideas and inspire others.
In a four-day program with intensive, yet eye opening, workshops and inspiring talks, our associate creative director Alessandro was immersed in the world of UX. From separating facts and assumptions to tackling problems you have today with design sprints. Or helping to define your strategy through the magical art of storytelling and designing for new technologies by turning science fiction into science facts. Alessandro got into the mind(set) of users and their experiences with your product or service and how to project them back to tangible strategies or solutions we can start implementing today.
Here are some key takeaways to get YOU started in thinking user-first:
● If you can't tell it, you can't sell it.
● Start by understanding your (user's) problem.
● "People don't want a quarter-inch drill, they want a quarter-inch hole." - Theodore Levitt.
● We suck at delivering bad news.
● Start by writing down or drawing what you think.
● Become a user: use your own product/service.
Hanne De Wit PR & Press, www.headoffice.be
Alessandro Segatta Associate Creative Director, www.headoffice.be