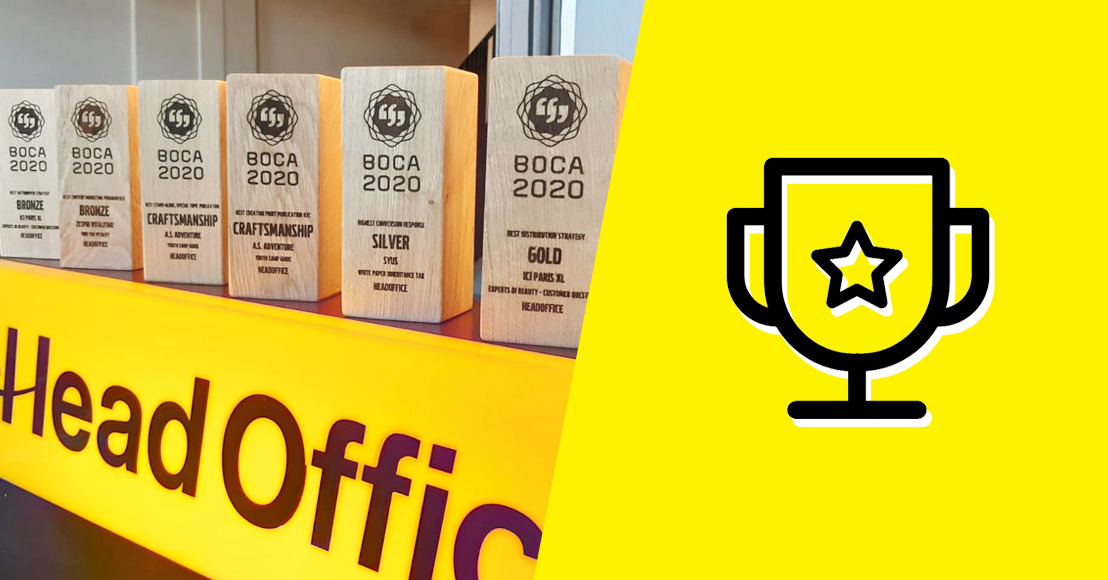 6 awards! HeadOffice scores BIG TIME at the BOCAs
Tuesday, November 3, 2020 — For the third time in a row, the Best of Content Awards put the best content cases from our country in the spotlight. HeadOffice was nominated for 9 cases in different categories in the 2020 awards. The final verdict? Of all our nominations, we managed to cash in 6 awards and win gold for ICI PARIS XL! #wooHOo
The categories of the BOCAs, organised by ACC/CUSTO, are the Content Strategy Awards for the most successful programmes; the Content Distribution & Promotion Awards awarded to cases that use different channels in the most original way. The third and final category is the Content Craftmanship Awards, in which the most creative and innovative cases are recognised within specific categories.
And now the big reveal … With which campaigns did HeadOffice win this year?

Well, let's just say 6 awards were added to our trophy cabinet. The jury awarded the work we did for our customers – ICI PARIS XL, A.S.Adventure, Zespri and Syus Investments – with one (or more) awards.
Gold and bronze for ICI PARIS XL
The ICI PARIS XL was specifically about Experts in Beauty in which we showed our expertise in video and customer questions. For this last part – the customer questions – HeadOffice received no less than two BOCAs, a golden award for 'Best distribution strategy' and a bronze award for 'Best data-driven strategy'.
2 Craftmanship Awards for A.S.Adventure
We also won prizes at the BOCA Awards for A.S.Adventure. The jury fell in love with the Youth Camp Guide and this case won two Craftmanship Awards. One for 'Best creation print publication B2C' and one for 'Best stand-alone, special topic publication'.
Zespri wins
Zespri was fully committed to vitality. Because: how vital are Belgians actually? This was the starting point for a colourful and energetic campaign, Time for Vitality, which could not and did not go unnoticed. The bronze award – for 'Best content marketing program B2C – at the BOCAs is the 'kiwi' on the cake for both us and the customer!
Silver for Syus!
Syus Investments received a silver award for the white paper 'Inheritance Tax' in the category 'Highest conversion response'. The right message, to the right audience, at the right time, resulted in a record number of leads for Syus Investments, which advises individuals and investors and helps them manage their investment properties.
HeadOffice is positioning itself for a strong multi-channel approach
The 6 brand-new wooden awards are sitting pretty on the shelf at HeadOffice. And we are happy about that. Awards for online, social media and for print: HeadOffice is showing itself – more than ever – to be a major player in multi-channel approach and content.